We have officially arrived at mid-November which means we are in full swing of all things Christmas. Whether your business sells décor, gifts or accessories – you should already have your products planned and promoted with intent on a big push the two weeks following Thanksgiving (in North America). For most maker businesses, the holiday season brings a strong finish to the year but your success is dependent on the work you've been doing all year round and the steps you take to improve upon your items in this final stretch. Here are three tips to level up your products, increase profits and boost sales this holiday season.
Limit Your Product Offerings
Our big topic of 2022 and going forward is understanding the importance of niching down your business. I cannot stress enough that if you are operating as a "print it all" business you are going to forever be chasing sales and limiting your potential while keeping yourself inundated with competition. In order to stand out from the crowd, you need to niche down your business and focus on curating products and designs for your unique audience.
The holidays are the best time to cut back on what you offer and focus on what you can create the best sales potential for. Sales potential largely depends on your current audience and the potential audience reach you can get quickly through your sales channel and marketing efforts. There are three types of handmade products that sell well this time of year: personalized gifts, seasonal items and commemorative items.
Ask yourself: If I could only sell ONE item, what would it be? The item that you choose should fit into one of the three product styles that sells well this time of year. It should be an item that will not face stock issues, can be purchased in larger sets and has the potential to be made more profitable with some creative marketing.
For example: personalized drinkware or commemorative ornaments.
Does this mean you stop selling everything else? No. If you have not properly niched down your business and started offering weekly or bi-weekly collections on a handful or products, then you still want to be open to additional revenue from other products. What you don't want to do is push an overwhelming number of products that are not unique or special and also do not have higher profits or profit potential. Your goal is to draw your customer's focus to the select items you want to sell the most of and can be a signature item from your shop exclusively for the holiday season.
Create Gift Sets and Gift Wrap
We are facing tough economic times which means that customers are looking to shop with intent. You products will fare better when they are more than just a single printed product. When you pick out the item you want to sell for the holiday season, think about how you can jazz it up to make it into a gift set and also gift wrap it. Remember that this does not have to be complicated.
For items like coffee mugs, consider adding in decorative spoons or hot cocoa spoons and candy while wrapping it with cellophane and a bow.
For items like barware, consider adding in a small flavor syrup with printed cocktail recipes and reusable ice cubes.
For items like ornaments, focus on a unique collection you can build and offer it gift wrapped with a box (these are my favorite and come in different colors), ribbon and wax seal (I have this and am obsessed with it) to drive up that perceived value.
Many items that would be purchased as a gift have the potential to be added to with simple items you can purchase in bulk or find at your local dollar store. Sometimes just taking a walk through these stores or online retailers can give us ideas that we can implement. Think outside of the box and make your item standout from the next one with your creativity.
Consider a Signature Collection
If there is one thing that is popular during the holiday season it is commemorative items. In particular, ornaments and coffee mugs. Normally I push back on ornaments because they have lower profits but just as with anything else, it is all about how you sell them. Should you slap a photo onto an ornament and call it good? No. This idea is a dime a dozen and does not make your product special.
If you prefer to do photo gifts, consider trying out a watercolor mask (see video above!) or other editing approach to make it unique. On the reverse side, consider adding some sort of poem or quote that is relevant. This can be a great technique for pushing memorial items which are a popular commemorative item during the holidays.
Another often overlooked signature collection idea is one that is centered around a theme or location. This can be a person, place or thing. The idea is that you pick one or two ideas for an annual ornament or coffee mug, and you sell them as a commemorative piece. If you're selling online, you may have to choose a broader idea like snowflakes or snowmen or santa and create a unique illustration take on them (or find the right clipart style for you). Add the year on the front and a quote on the back along with your gift wrap box to create the total commemorative experience.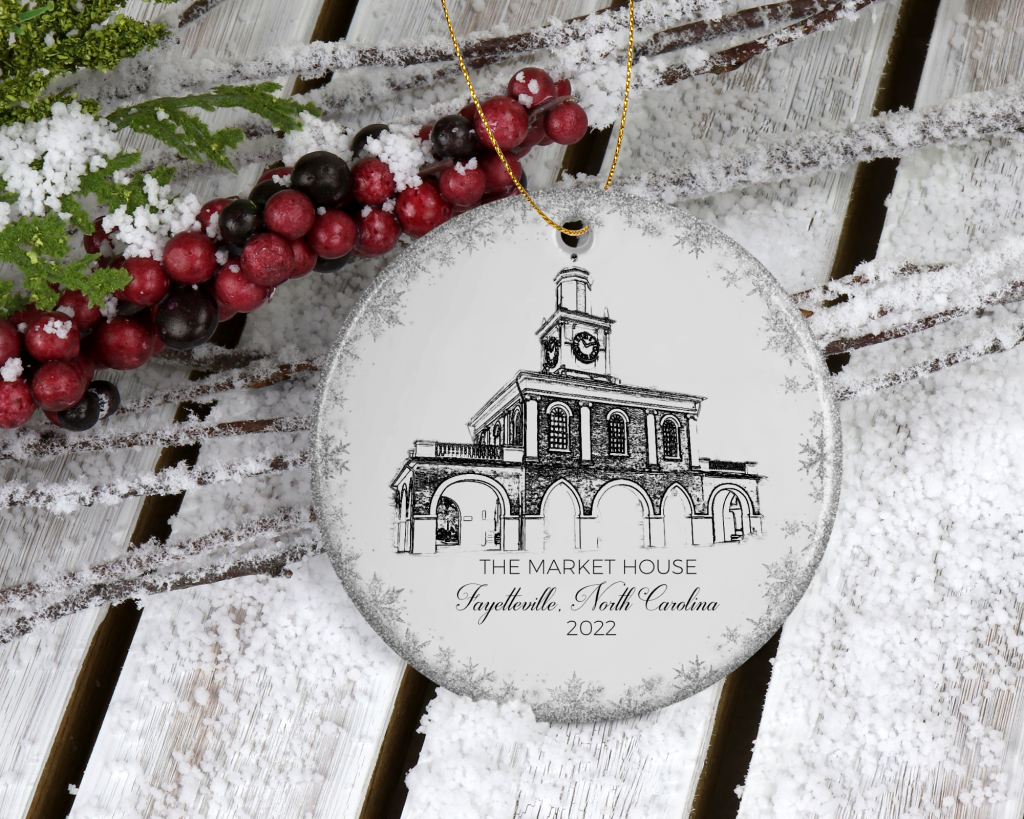 If you're operating with local sales, you can't do wrong by simply creating a sketch effect of a photo of a person, place or thing that is relevant to your area. For example, here in Fayetteville, North Carolina, I might consider doing an ornament with The Market House, a Dogwood flower, military boots/flags, or something else around the area that is iconic. Depending on your region this might be a certain restaurant, old school house, community garden or gazebo, historian of the town or town mascot. Take advantage of the love people have for their state, city, town or country. With this idea, you can build on it each year by having a limited collection with 1-2 designs that include the year and continuing the tradition annually.
As makers, you have the ability to drive the value and perception of your products. These tips are meant to help you do just that. Let the holiday season be a time when you move away from selling an item as-is printed with any design. Take this opportunity to create a customer experience they will remember, refer others to, and return to shop from in the future.
Now what about getting your products out into the world? There are many ways to sell during the holiday season. Each maker has their own preference. Vendor fairs, pop-up shops, list your products in local consignments, take advantage of creating wholesale connections on platforms like Faire.com and Abound.com, post on Facebook marketplace and of course, leverage SEO and self-driven traffic to your online selling platform. Successful selling is always about building a connection with your audience in a way that works for you. There is no right or wrong way to sell; you will get the amount back based on the effort you put in. It all starts, however, with creating a sell-worthy product that helps you stand out from the competition using the three tips above.