The concept of niching down a creative small business is often met with resistance by those who are new to the idea. Almost immediately, sellers become overwhelmed with income concerns because it is different and limited compared to their current business strategy. As we covered in our previous blog post, by doing less you are able to achieve more; that's the power of niching down.
A business that relies on this month's "hot seller" item or theme is not one that is built for longevity or income stability.
A business that offers endless products and printing of any idea a customer brings, in a world where this is the hobby-mindset norm, is also not built for longevity or income stability.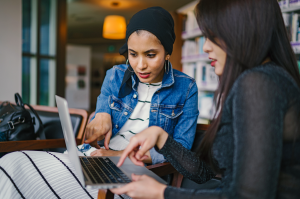 Niching down is about setting yourself apart from the crowd. It's about foregoing short term trends in designs and products in favor of becoming the preferred seller of a few products/styles that you are passionate about. Most importantly, it's about taking the hobby out of your business and creating a stable, scalable, structured approach to finding customers. An approach that doesn't have you spinning your head trying to compete with low-budget makers in a saturated market.
There are a few considerations to help you determine the right creative niche for your small business. Grab a piece of paper and follow through them, below.
Initial Product Selection
The first step is to write down 3-5 products which you enjoy making. Do not make this list based on what was a hot seller at one point or an item you know is trending. As yourself honestly what products you can make that you enjoy making most. What products are ones that you personally would use/purchase and get excited about? What products have the least amount of issues or you feel like you have mastered making.
The easiest products to sell are the ones that are infused with your passion. This is what people look for from a small business. Remember, there is nothing special about a little of everything at Walmart. There IS something special about walking into a local boutique and shopping their carefully curated collection which an associate enthusiastically tells you about. Your passion and enthusiasm for the products you create equates to sales; jot down your 3-5 products accordingly, ranked by favorite.
Analyze Product Profitability
For your next step, look at your initial product selection and determine the resale price for these items based on your sales and experience. Ignore any formulas. Many makers are following formulas or implementing pricing that doesn't accurately reflect their product and talent. Your list should be the pricing that you feel is best for those items. Organize your product selection by list from highest resale value to lowest.
Profitability is not just about the resale value. The best products are those that have higher profit margins which allow for bulk discounts or wholesale selling + allow for broad design styles. It is also about the time required to print that item (single and multiples). Prep time, materials and margin of error vary from one product to the next.
For example, on a 16×20 heat press, you can press 30 neoprene car coasters at once. For volume printing, you would use a jig to make it quick and easy to align your coasters with the transfer and press – saving time. The average cost to make a pair of neoprene car coasters is $2 (or less); the resale value is $6. Printing 15 pairs at a time equates to $60 profit for roughly 5 minutes of start to finish work (10 minutes if you're moving slower). Car coasters are also an item that can be sold across multiple design niches and at wholesale or bulk discounted rates.
Thinking about other products, we know that this same scenario is not the case across all items that we can print on. We know that all products do not have the same profitability; what we want to avoid is products that have minimal profitability. For example, sublimation phone or tablet cases. These tend to be a higher priced blank averaging $5-$10 each after shipping. Because these are not heavy duty, shockproof style cases, the market cap on their re-sale is approximately $25. If you're focus is on photo printed cases (a popular market) then you are increasing the time investment into creating this item. There is versatility but no option for wholesale or bulk discounts at this pricing. This is a product that has low profitability and is therefore not worth offering as a flagship item.
Based on this information, cross off the two products at the bottom of your list that lack real profitability.
Pick Your Niche Design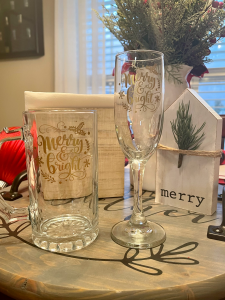 We are not quite done curating your product selection, but first we need to talk about what you're going to print on your potential products. A product's scalability and profitability is only as strong as the design theme you choose to cater to.
Many of you have been working in the "print it all" or "print whatever the customer asks" mindset. Niching down your business means breaking away from that. Why? Because this is what EVERYONE is doing. Creating "custom" printed items has lost all of its uniqueness in recent years as the hobby crafting market has exploded. Our niching down series is focused on those who are looking to create stable, scalable income as a business – not a hobbyist. If you are trying to make more than a few dollars here and there, you need to embrace niching down.
That being said – what is your preferred design style or target market? What are you most passionate about? Be specific. Write down 1-3 ideas that you gravitate towards. Western, farmhouse, seasonal décor, kids clothing, dark humor – just to name a few. This can be a design theme (bohemian, junky) or a design category (food lover, dark humor, bridal).
Compare Your Product Selection With Your Design Niche
Every product and design niche is not a good combination. We can argue that there is something for everyone, but the truth is that if you want to have a thriving business then you need to be realistic about the consumer appeal of your potential product. Looking over your two lists, what design niche has the most potential with what product(s)? Potential refers to those profitability factors outlined above. If you're design ideas do not align with your products, then you need to reassess what you have written down.
Remove any products that are not part of the same product category as your first profitability item. I.E. If your list contains Christmas ornaments, throw pillows and mousepads then you will eliminate mousepads and ornaments. These two items are less profitable and are limited markets. If either is your passion, then you need to be "all-or-nothing" in them.
Here are some ideas of what a product + design niche might look like:
Baby bodysuits + milestone designs and/or seasonal kids designs

Throw pillows + seasonal designs, inspirational designs or kids designs

Coffee mugs + snarky office designs

Doormats + full color monogram designs for seasons, holidays and everyday use

Tote bags + book lover designs

Coffee mugs + customer submitted child artwork

T-shirts + faith based designs

T-shirts + funny shirts for men

Glow in the dark tumblers + horror/murder theme designs

Dog bandanas & collars + various patterns
The potential combinations are endless. The goal is to find the right combination for your business.
At this point, you will have isolated the foundation of your niche and your flagship product(s). Your list should only consist of 1 or 2 primary products and one design niche that you feel most passionate about. From this, you will craft product collections, add-on adjacent products and immerse your business in targeting customers who want and love what you are offering. Does your results not look like your current customer base? Don't worry – we will be covering this more in depth as we continue our niching down series.